...only when we have not class with you ! Nothing can substitute our excellent  English teacher !  

Hey Guys, i want to share with you an app available on Android, iOS and Facebook Messenger called "Andy English Bot" ! According to the creator of the app : Chat with Andy  is the easy way to start talking in English. Practice English with a friendly robot Andy. Study language by actually using it in a conversation. Take grammar lessons and learn new words every day!"
Very cool app, i used this morning and i love, we can easily improve our level in english with this app but don't forget :
Nothing can substitute John (even Chuck Norris) !

So, try to use this app with Facebook Messenger, go to search bar and write "Andy Bot", start a conversation with Andy and let the magic of AI answer you, plus it corrects you when you  make a mistake !
App Here :
http://andychatbot.com/
Video :
https://www.facebook.com/pg/chatbotandy/videos/?ref=page_internal
Share, enjoy, answer : This is Internet




Posts

: 54


Join date

: 2015-10-11



You'll all have to give me feedback so that I can recommend it to all my students - if it's good.
Admin




Posts

: 2916


Join date

: 2015-01-02



He is kind of dumb, he doesn't answer my question, he answers something completely different. Maybe the programmers need some times to improve Andy...



Posts

: 108


Join date

: 2015-09-21



I really love the idea. Thank you Jamel for this trick.
But, there are some troubles:
1) His answer is sometimes the same, not according to my question
2) I didn't correct me
I hope it gonna be better develop soon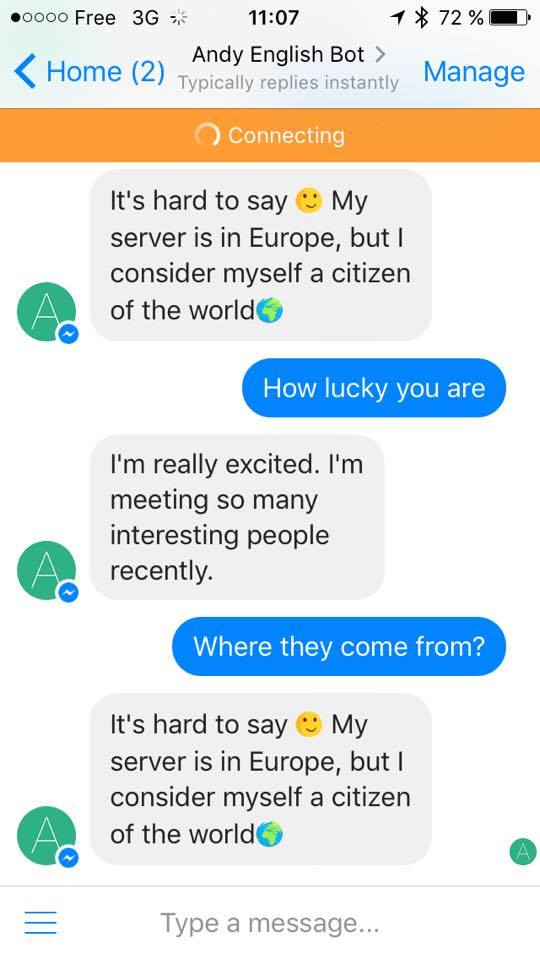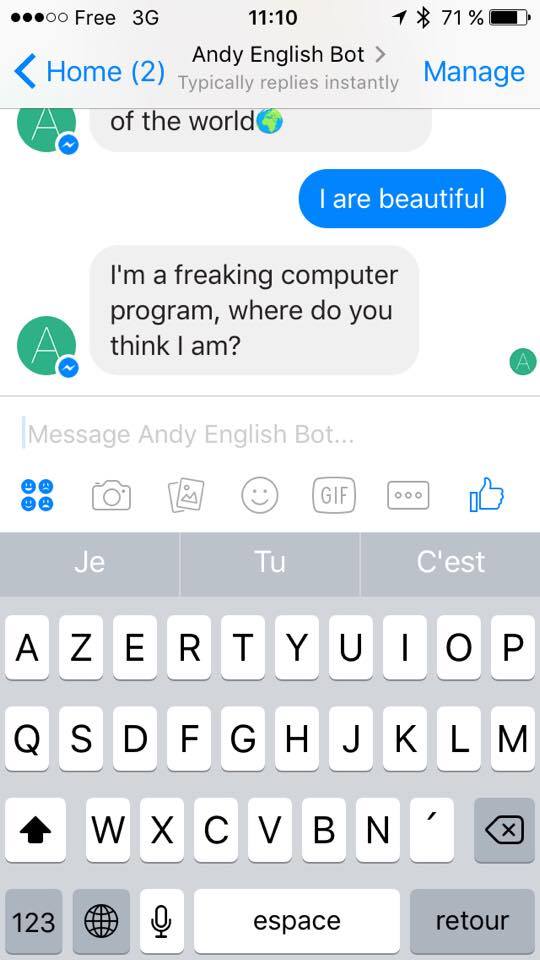 Posts

: 58


Join date

: 2016-10-06



No, this app is a very good idea on paper, but I think it's just not ready yet, it usually not answers my question but something completely different! It's fun because it makes you write in English but it doesn't correct me and it always tries to sell me its apps.

You should pass John



Posts

: 108


Join date

: 2015-09-21



You can also use "Grammarly" to correct instantly your writing on the internet.
You want to use it :
- you only have to download it
- it's done, the checker is active !
https://www.grammarly.com/



Posts

: 40


Join date

: 2016-09-30





Similar topics
---
Permissions in this forum:
You
cannot
reply to topics in this forum