Page 2 of 2 •

1, 2

Julie Stoerkler wrote:

Morais.Cécilia wrote:I don't have dog but I love my baby cat, and I could not take her. Her name is "Biscotte" she's soooooo cute !!! I also have a goldfish, he's soon 12 years old ... It's a very big fish now he looks like a "koi fish". I would love to have a dog but I don't have time to take care of it. I am not a fan of small dogs but I love big dogs like German shepherd, Husky, Akita, Pitbull...

You put a photo of your cat ! It's true he is so cuuuuuute  !

Like you, I prefer big dogs, but not Pitbull ^^
Why you don't like pitbull ? Nevertheless the pitbull have a head so cute !!



Posts

: 80


Join date

: 2016-10-02



Loris SEDEAUD wrote:

Candy Kouadio wrote:Because I lovvvvve the dog of my brother !!! So cuuute

I haven't animals because my father didn't want

 ! But when I was young I've had one hamster (Kimberly) and one mouse (Anissa). And between cat and dog I prefer a dog

and you Julie ?

Kimberly

I understand why you spend your weekend at the Santon

Julie :

Dogs x100

Cats are a bit of bastards...
" Cats are a bit of bastards" IT'S SO FALSE !!!!! I hate dogs ! They smell bad, we must go for they walk. I prefer cats ! They are so cute, so cuddly ... It's categorical : I love and I prefer cats



And more specifically Angora cats like my cat " CHIPIE", she's so beautiful ! :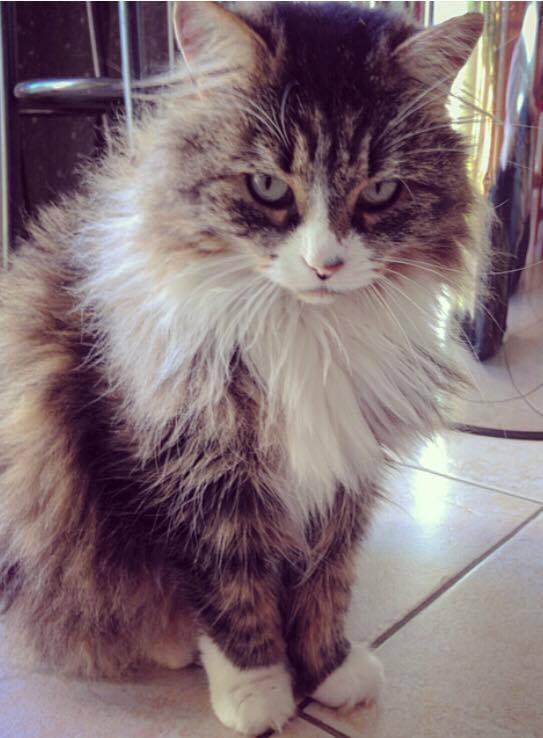 Posts

: 96


Join date

: 2016-09-26



I love dogs and cats, the cute ones. When I see their pictures of my friends on social media, I really want to have one. However, when I take seriously about it, I hold back. Because it's a responsibility for you. He/She is your family and you have to take care of him/her. And I don't know if I have enough time and patience to do that.
But one day, I will/must have a dog or a cat!



Posts

: 68


Join date

: 2016-09-15



Haha I like this subject

As you may know I have a dog (Dat fat dog on my picture) ! His name is Lou because he's as fierce as a wolf... I rather like dogs than cats because, to my mind, they're more affectionnate than cats. Moreover, cats don't really care about us, they're like laying on sofa, sleeping all the time... they're boring as F.



Posts

: 25


Join date

: 2016-09-17



My mother doesn't like dogs and cats. So I've never been able to convince her to buy or adopt one. But I succeeded in getting a fish one day ! (I know it's not really fun ...) Now that I live alone, in my flat, I think I won't buy one. Because it would be unhappy in a small space. And I'm never here ... Without my presence, it would be sad !! Maybe one day, I hope I will have a dog and a cat with a biiiig garden




Posts

: 49


Join date

: 2016-09-22






Posts

: 124


Join date

: 2016-09-19



Haha Chipie looks like she's very angry but she's still cute

Yes it's true dogs could smell sometimes but if you care about them, like washing them every months, it's fine ! Mostly when they're "appartment-dogs". Regarding the cats, what I don't really like about them, it's their poo and pee odours. Even if they do it on a cat litter, it stinks a lot. I could puke if I smell a cat odour.



Posts

: 25


Join date

: 2016-09-17






Posts

: 92


Join date

: 2016-09-17



Page 2 of 2 •

1, 2

---
Permissions in this forum:
You
cannot
reply to topics in this forum