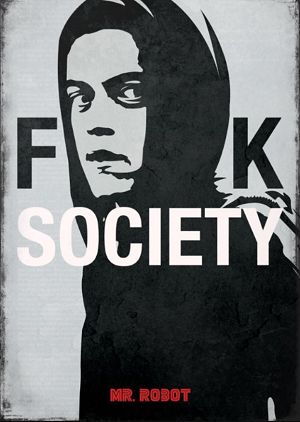 I will talk about Mr Robot, an amazing series with 3 seasons (the third one has started 10 days ago). It talks about Elliot Anderson, a cybersecurity engineer and hacker. He suffers from social anxiety disorder and clinical depression.
The story is a quite hard to explain but Elliot is recruited by an anarchist known as Mr Robot to join a group of hacktivists called "fsociety".
The aim of this group is to destroy all debt records by encrypting the financial data of the largest conglomerate in the worl called E Corp.
I really love this show since the beginning and I recommend it to all of you. Even if it can be difficult to understand, you will love it ! Rami Malek (who plays the main character) is huge in this show !
Here is the launch trailer !
I watched the first season and enjoyed it, though probably only loved 1 episode. I didn't watch the second season and heard very mixed reviews but mostly negative. What was the difference between the first and second?
Admin




Posts

: 3550


Points

: 6009


Reputation

: 23


Join date

: 2015-01-02



Hello, i think i will be talking about it too. I finally found 2 people who knew about Mr.Robot. From what i remember, and without spoiling you, the 2nd season goes more in depth about Eliot problems and reveals a part of the real story about him and TheBlackArmy.... Jeremy, can i ask you where did you streamed the first episodes of the 3rd season ? Thanks



Posts

: 82


Points

: 781


Reputation

: 6


Join date

: 2017-09-25


Age

: 26



As Wissam said, the second season explain some different plots. I know you can think that nothing seems to happen, it's not an action series but more a sobering series I think.

Wissam, I didn't watch the first two episodes because we have had so many homework at this moment so...
I wanted to start to wath Mr Robot, the story look really good and interesting, you follow the hero in his adventures and in his problems. I think to start soon but i don't have enough time right now. I have to do some homework and i already watch stranger thing and american Horror story, so watch 3 series at the same time lookk difficult to assume




Posts

: 84


Points

: 790


Reputation

: 7


Join date

: 2017-09-22



There are almost 10/12 episodes per season so it's not very hard to watch this series. Try it, you will not regret it !
Hi Jeremy,

it seems to be very interesting, I think I will watch Mister Robot.



Posts

: 39


Points

: 741


Reputation

: 1


Join date

: 2017-09-24




---
Permissions in this forum:
You
cannot
reply to topics in this forum