When this homework was first announced, my choice was already made. Indeed, I was going to discuss about the best TV show in our era which is Breaking Bad, an American drama serie aired on AMC from January 20, 2008, to September 29, 2013. From the cast, to the story, to the dialogues, to the soundtracks, to the precise scene shots, all the elements are united to form a masterpiece. BB has won in total 110 different awards.
This post and the future ones are for the ones who have never watched BB (which is a shame by the way

) to give them the desire to watch it but it's also for the ones who want to share their vision of this extraordinary TV  show so we can create a real discussion and perhaps even establish theories for the spin-off. I'm definitely a great fan of this show and I think I am not the only one, so join  


I am so fanatic that I have watched this series for a second time. There's always something new to discover and with the spin-off "Better Call Saul", it gets even more exciting because you can see the different characters from another perspective. Their lives before Breaking Bad, you get to learn more about some characters such as Saul Goodman (of course) but also the surprising appearance of the
Spoiler:

former Kingpin Gustavo Fring
but also characters like Mike Ehrmantraut or Hector "Tio" Salamenca. We also discover many other casts such as Charles "Chuck" McGill (Jimmy McGill better known as Saul Goodman's brother), Kim Wexler (Saul's date) and many others. Through these 2 drama series, we can accord to say that the showrunner, Vince Gilligan, is a pure genius. His creativity, his way of imagining the story from the beginning to the end is f***ing mind blowing, each scene is precisely thought upstream and this precision can be observed from the numerous details. Indeed, if you look carefully, you can notice a lot of small details. Details that have their importance such as the importance of the chemistry theme throughout the all series. Hence, the all series is constituted of a series of successive reactions which inevitably leads to the last state of the matter. And I'll insist on this point in this post but before that let me briefly resume the story of this TV show.
Thus, BB retraces the story of Walter Hartwell « Walt » White (WW), an extremely over qualified high school chemistry teacher. After diagnosed with terminal lung cancer, he breaks bad (this is to say that he takes the wrong turn, goes astray). Indeed, in order to provide his family, he resorts to cook and sell methamphetamine (a synthesised drug) with the help of one of his former students, Jesse Pinkman who turns to be a dealer.
However, to return to the subject of my post, chemistry, the series is perfectly resumed by the lead character in the following sequence:
Thus "Technically, chemistry is the study of matter, but I prefer to see it as the study of change," White says to his high school chemistry students in the show's first episode. "It's growth, then decay, then transformation." The entire TV show is articulated around this description of chemistry. Hence, we closely follow the evolution/transformation of the character from growth to decay or from decay to growth (depends on who you see it  

).
Another lesson that we can learn from our favourite chemistry teacher, is the notion of chirality.
As described by the teacher, chirality is the fact that two objects can look particularly similar but they act particularly differently depending in the environment where there plunged. This is a direct reference to his proper chiral pair, his alter ego, Heisenberg. Hence, Heisenberg looks and seems just like Walter White, it's the way they behave in their respective environments that's drastically different.
In the next following topic, I'll talk about another small detail that you might have missed which are the mirror reflection scenes.
To conclude, there's definitely a lot to talk about with this series. A lot of numerous ideas can be transposed to real life.
BEST SERIIIIIIIIIIE !!!!




Posts

: 16


Points

: 618


Reputation

: 0


Join date

: 2017-09-28



It's the best choice. This series is original given that it is come from a true story.



Posts

: 9


Points

: 605


Reputation

: 0


Join date

: 2017-10-04



For this post, I wanted to share another detail that you might missed. I am going to talk about the reflections scenes throughout the all series. Indeed, if you come to look at this TV show, I want to bring your attention to this detail. Hence, the showrunner, Vince Gilligan wanted to represent Walter White's alter ego who is Heisenberg with these reflections scenes.

These different scenes/reflection scenes are (in my opinion) here to represent the situation and relate the emotions of WW/Heisenberg.
Vince Gilligan also created a color code for the TV show. Indeed, if you look carefully, you will notice that each character has a specific color with the clothes that he/she wears. Hence, the clothing colors represent various relationships to each other and emotions in each scene. This is called the color wheel theory. Below you can see the color codes throughout each episode. (WARNING SPOILS)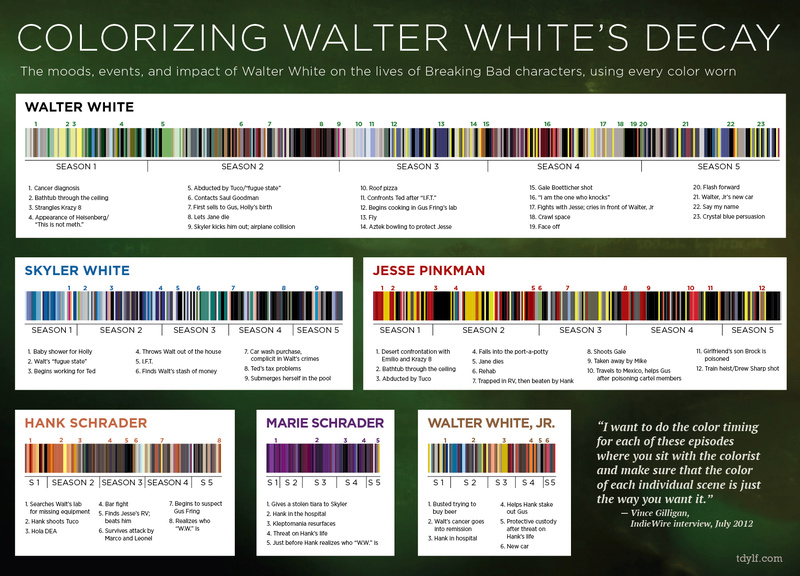 This color code is also recognizable in Better Call Saul, sometimes also called "Ice and Fire" theory. This is to say blue for the good guys and red for the bad guys.
I also wanted to share a poem called Ozymandias of Egypt which is also the title of episode 14 of season 5 by the way. Hence the poem is following :
"I met a traveller from an antique land
Who said: "Two vast and trunkless legs of stone
Stand in the desert. Near them, on the sand,
Half sunk, a shattered visage lies, whose frown,

And wrinkled lip, and sneer of cold command,
Tell that its sculptor well those passions read,
Which yet survive, stamped on these lifeless things,
The hand that mocked them and the heart that fed,

And on the pedestal these words appear:
'My name is Ozymandias, king of kings:
Look on my works, Ye Mighty, and despair!'

Nothing beside remains. Round the decay
Of that colossal wreck, boundless and bare,
The lone and level sands stretch far away."

The lines of this poem were also in the promo of episode 14 as you can see in the following. I definitely love this promo, the characters voices gives so much intensity to the poem. It gives me goose bumps...
If you look at the whole series and particularly at the episode 14, you will perfectly understand why this poem was chosen. It completely symbolizes the TV show and WW situation. "From growth to decay..."
By the way, do you know why the Vince Gilligan chose "Heisenberg" as an alias for WW ?
Well, it's because Heisenberg really existed. It's a reference to German physicist, Werner Heisenberg, who is one of the founders of quantum mechanics and the uncertainty principle.
Moreover Heisenberg was also rewarded with a Nobel prize and diagnosed with cancer just like Walter White.
The uncertainty principle is also related to what we saw above. Indeed, we are uncertain about who we are confronted to/who we are observing, is it the family father or the drug lord or both ? He behaviours in both ways.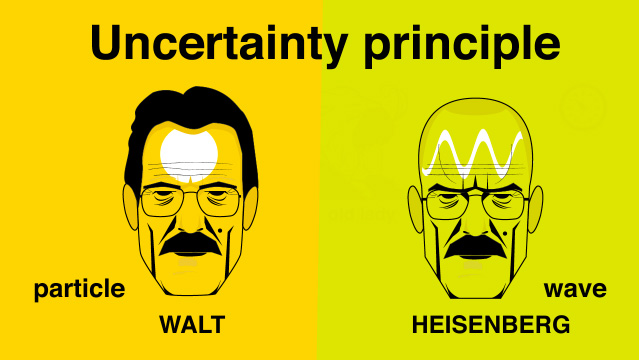 Many other details exists but these are the most outstanding. If you do some research, you will learn even more and this where the TV show is mind blowing. You have always something new to acknowledge. It's just incredible how this TV show was well thought from the beginning to the end.
I hope that the ones who watched Breaking Bad have a new perspective of this TV show and for the others I hope I succeeded to convince you to watch this awesome TV show. If you don't watch it NOW then...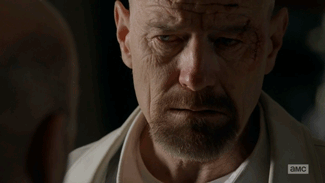 ---
Permissions in this forum:
You
cannot
reply to topics in this forum