Hi everyone !!  

This work is very complicated because there are so many series today, I watched so many TV shows, I prefer this than cinema actually because stories are more developed with a series. So my favourite TV show is not the most famous but I think it is the best, it is "The Leftovers'.
The Leftovers is an HBO series (best producers of series with Netflix I think: Game Of Thrones, House Of Cards, Westworld…), this drama series has 3 seasons and is inspired by Tom Perrotta's novel « The Leftovers », the series is created by Damon Lindelof (creator of Lost) and Tom Perrotta himself and the casting is composed by Justin Theroux, Amy Brenneman, Christopher Eccleston, Liv Tyler, Carrie Coon and Ann Dowd.
The Leftovers talk about of the disappearance of 2% of world's population (140 million people). The TV show follows the story of a small city in United-States "Mapleton" after "the departure" which took place on October 4, 2015. The Leftovers is a science fiction but it is very psychological because it shows how people reconstruct after a disappearance.
In the TV show, there is a cult « The Guilty Remnant » is an organization that was formed after The Sudden Departure, whose members are self-proclaimed to be « Living Reminders ». They're not allowed to speak and they have to smoke every time and they harass people who lost a close family member.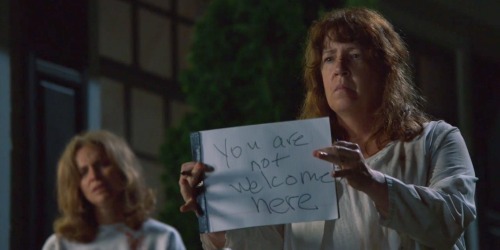 The TV show has 3 seasons and is over since this summer because of the weak audience, I'm so sad but I think it's a good thing to stop a TV show before becomes bad, for example, I think « The Walking Dead » should have stopped at the season 5. As I said before, the goal of this series is to show how people reconstruct after a disappearance that's why at the end of the show you don't know why people 2% of world's population disappeared.
To conclude, this series is not famous but I think it is the best, all in this is soooo good, actors (especially Ann Dowd), the story, the screenplay, the scenery, and the original soundtrack by Max Ritcher. I recommend it to you strongly !!!



Posts

: 16


Points

: 718


Reputation

: 0


Join date

: 2017-09-21



Hi Tom!

I am so happy to see you talking about this series which in my opinion deserves much more attention! I am very surprised nobody knows about this show...
But anyway I completely agree with you, it is an amazing series, sometimes a litlle bit weird but very interesting because of the fact that it developps the psychology of each character. I love the fact that there are no heroes, they are all human, they all have their own weaknesses and they all react in a different way to the events! (Furthermore, I think Justin Theroux is very very sexy, lucky you Jennifer Anniston).
I haven't seen the last season yet, what was your thought about it? I hope it's good since I remember that the seconde one was in my opinion even better than the first! (Which is impressive considering that the first season is based on a book while the second is an original plot)



Posts

: 86


Points

: 791


Reputation

: 7


Join date

: 2017-09-24



Hi !
I think that I have already seen the trailer ! But didn't watch the series. The music from the series here are so cool ! Maybe I'll watch it !

Didn't know the book either, do you guys read it ?



Posts

: 21


Points

: 720


Reputation

: 0


Join date

: 2017-09-24



Hi !
I started this series earlier this year but I stopped watching it after 5 ou 6 episodes. The story was not so attractive to me. Maybe I will (re)watch it soon
I didn't know the series is from some books !



Posts

: 40


Points

: 743


Reputation

: 5


Join date

: 2017-09-24



Hello Tom !
Your summary makes me very curious about this show. Actually, i've just remember that my real-estate agent advised me to watch this series!
I'm used to love Science Fiction, so I guess I'll enjoy it !



Posts

: 45


Points

: 749


Reputation

: 0


Join date

: 2017-09-19



Hi Tom,
I started to watch The Leftovers at the beginning of the serie. I really liked the first season but i stopped during the middle of the second season because it was too slow for me and it didn't give answer of the biggest plot of the history.
But good to see people that kow this serie




Posts

: 84


Points

: 790


Reputation

: 7


Join date

: 2017-09-22




---
Permissions in this forum:
You
cannot
reply to topics in this forum