Admin




Posts

: 3550


Points

: 5915


Reputation

: 22


Join date

: 2015-01-02



Hm, I'm sceptical about this topic : it's a recurring problem in America.
Everyone knows it, but little action in this regard.
It took : « KFC outlets across the UK have closed temporarily this week as delivery problems led to a shortage of chicken. »
For the article : « Customers have been sharing their dismay on social media - and this got Reality Check thinking about the UK's eating habits. »
In short, let them open the eyes of Americans.
According to the article, all that relates to the "bad food" that causes obesity is only increasing « The number of outlets per 10,000 people increased from 2.6 to 3.8 over that period. »
With the consumption at the same time « Cambridge's Centre for Diet and Activity Research (Cedar) found that the number of takeaways had increased by 45% from 1990 to 2008. »
The worst part of all this is that it affects the youngest « It's 16 to 34-year-olds, students and parents of under-16s who are the most likely to visit chicken outlets. »
However, measures are in place in some states: fast-food bans close to schools; Taxation, etc. Despite their efforts, this phenomenon of obesity and fast food remains very (too) important ...! Citizens remain locked in a circle from which it is difficult to escape.
Because yes, we like it Fast food! Cheap and fast ..!
I even have the impression that our country "France" could be in this same case in a few years. The only way out, I think, would be to educate young people or put in place measures to reduce it.
For example: more sports, show the consequences of obesity, etc.
Don't you agree with me?



Posts

: 34


Points

: 646


Reputation

: 0


Join date

: 2017-09-18



Hi,
I agree with Gwenaelle. I think that fast food is ocasionally good and convenient but have to be regulate because exagerated consumption is a threat for people health and society
Governments should rise the taxes on it and finance more communication plans about healthy food.
The KFC crisis in UK sounds unbelievable and shows the too important place of fast food in popular culture. At the end it could be seen logical knowing that a KFC menu is cheaper than a unique plate in the majority of restaurants...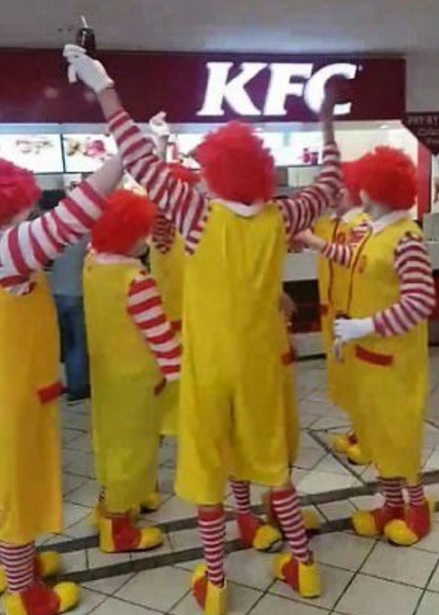 Posts

: 21


Points

: 627


Reputation

: 0


Join date

: 2017-09-24



Hi guys,

Effectively, I'm agree with you girls !
Eat some fast food, occasionally, it's not bad ! But some people can just eat fast food occasionally, and at this time it's a problem.
Fast food is practical, because it's quick and we don't have to cook.
I think we can especially associate fast food and obesity in USA, because if we compare to France, menus in USA are disproportionate (for example big menu in France corresponds to the small menu in USA)...
And I'm agree with Gwennaelle on the fact that to limit obesity, we need to educate new generation who would have a tendency to eat a lot of fast food. We have to show them the real consequences of obesity. And we must also encourage them to make sports.




Posts

: 5


Points

: 608


Reputation

: 0


Join date

: 2017-09-25



Hi,
I love fast food but it is right this can lead to health problems so this is why I go to this kind of outlets from time to time (once a week at MAXIMUM). The problem, as Adeline said, it is to educate new generations and not only one or two ad at the TV. With GOOD information, the pros and cons of different foods. The large majority of people does not have a basic knowledge in nutrition and this is why people don't know what to eat to have a healthy life !



Posts

: 81


Points

: 701


Reputation

: 13


Join date

: 2017-09-21



Hi girls !

Ok, so i agree with you but I think we have all been made aware, so we all know that fast food are bad for us (if we eat it too much). Everybody know this movie "Super Size me" with this man who eats McDonald's for one month (but if I remember it myself well, he had to stop it before the end of the month). We all have seen that his health wasn't as good as before the test. I think that was before and more specially in USA.

McDonald's in France (I don't talk about KFC because I don't want to do a mistake) is not as bad as McDonald's in USA. Indeed, in USA we can see lower price than in France because the products aren't good, and the hygiene standards are bad. In France we don't have this problem ! I worked in McDonald's before, and I eat a Maxi BestOf menu every day (it was free ahah) and I haven't gained weight... Why ? Because the products are not as bad as we think and as people say ! But I have to admit something, during my job I was stand up and I ran for 5hours, so... maybe it helps me to not gained weight.

Now I want to talk about one sentence in this article :

"In 2017, Mayor of London Sadiq Khan announced a new planning strategy, saying that fast-food outlets should not be allowed to open within 400m of schools." I think that if we really want to avoid obesity problem, we have to promote sports, and make it more accessible ! Moreover, If I was a fast-food outlet director, I would build my restaurant within 401m of schools...



Posts

: 62


Points

: 677


Reputation

: 10


Join date

: 2017-09-24



Hey guys, I totally agree with you!
We can eat time to time "cheat meal", the way how sportsman called fast food, isn't it Gwen!

Of course, we mustn't abuse of what we like! Even with good food.
You're right Vincent, the best way to fight against obesity is to do sport. In Japan, all student in school, high school, must do an activity, to be in a club organized by students. So, the school support their activities and every child can do sport they like freely.



Posts

: 34


Points

: 641


Reputation

: 3


Join date

: 2017-09-23



Hi everybody !
I agree with you you can eat what you want and even fast food, you have to know how to have fun but you have to be careful, it should not become a habit because it can be dangerous for the health. In the United States, they eat very badly but they do not do sports either, they often play a lot of video games and therefore stay on the couch. I think that we can eat what we want from the moment that we practice a sporting activity.



Posts

: 13


Points

: 611


Reputation

: 0


Join date

: 2017-10-02



Hello,

I think Fast foods as KFC are responsible but not guilty about the increase of the obesity.
I mean, according to several surveys, the more fast foods there are, the more obesity there is. But I think it's not just that. Teens are becoming lazy, spending many hours playing video games instead of doing sports. In an other hand, parents are more and more active in their job and meanwhile they have less time to cook and to do healthy meals for their children.



Posts

: 106


Points

: 1097


Reputation

: 15


Join date

: 2016-09-20


Age

: 25




---
Permissions in this forum:
You
cannot
reply to topics in this forum